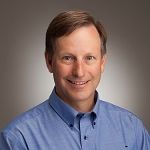 M. Ries Robinson MD
---
Chief Innovation Officer
Ries Robinson is the Chief Innovation Officer at Presbyterian Healthcare Services. Dr. Robinson's current focus is helping Presbyterian identify, pilot, adopt, and scale innovation for the benefit of patients and members served by Presbyterian. Within this global umbrella, Dr. Robinson has focused on patient access issues with the goal of reducing the burden on providers and empowering patients to better manage their health conditions.
His record of innovation is significant as evidenced by his founding of Inlight Solutions, VeraLight, Luminous Medical, TruTouch Technologies, and Lumidigm; resulting in over $160 million in corporate partnerships and venture capitalist financing. These entrepreneurial activities have resulted in over 40 U.S. patent applications.
Dr. Robinson has a passion for transforming ideas and concepts from the white board to functional systems. He thrives when directly involved or leading a team and finds greatest satisfaction when the project involves a balance between technology innovation, strategic selling, and business development.
Dr. Robinson holds bachelors and masters degrees in Mechanical Engineering from Stanford University, and a medical degree from the University New Mexico School of Medicine. He previously served on Presbyterian Board of Directors for five years.