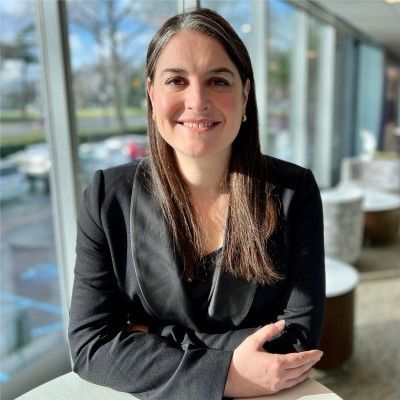 Rebecca Kaul
---
Chief of Digital Innovation and Transformation
Dr. Rebecca L. Kaul is senior vice president and chief of digital innovation and transformation at Northwell Health, where she works with innovators across the institution to develop new strategies to leverage novel technologies to drive transformational change.
She is responsible for developing and managing strategic relationships, new product development and the Innovation Center.
Prior to joining Northwell Health in August 2022, Dr. Kaul was MD Anderson Cancer Center's first-ever chief innovation officer, leading an Innovation Center designed to identify creative and effective approaches for delivering exceptional patient outcomes and bringing new solutions to market.
Working closely with MD Anderson clinicians, researchers, patients and operational leaders, her team used observation techniques, stakeholder interviews and market research to understand how to develop the next generation of digital technology solutions and to design groundbreaking user experiences. By collaborating with internal innovators and establishing strategic relationships with startups and industry, Dr. Kaul accelerates value generation and commercialization in healthcare. Dr. Kaul has more than 20 years of experience driving transformational change in health care through the intersection of strategy, business and digital innovation.
Prior to joining MD Anderson, she served as chief innovation officer and president of the University of Pittsburgh Medical Center's (UPMC) Technology Development Center, where she built their Innovation Center from a conceptual idea to a center nationally recognized for developing an extensive portfolio of partnerships, investments and new companies.
Before starting the UPMC Innovation Center, she led their joint venture with A-Life Medical to develop an AI-enabled medical coding product suite, which yielded a 100 percent return on investment in 18 months.
She earned a doctor of philosophy in public health from University of Texas Health Science Center at Houston School of Public Health, a master's degree in information systems management from Carnegie Mellon University and also has a master's in business administration from New York University Stern School of Business.
In 2018, Dr. Kaul was selected as one of the 50 Most Powerful Women in Healthcare IT by Health Data Management. In 2019 she was named in the Top 30 Chief Innovation Officers in Healthcare by Health Data Management. In 2020 and 2021 she was named as a Women to Watch in Healthcare IT by Becker's Hospital Review and in 2022 was named a Woman Power Player in Healthcare IT by Becker's Hospital Review.