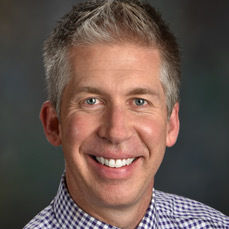 Thomas M. Maddox MD, MSc
---
Director, Health Systems Innovation Lab
Dr. Maddox is the inaugural Director of the Health Systems Innovation Laboratory (HSIL) at BJC HealthCare and the Washington University School of Medicine in St. Louis. He is also a practicing cardiologist, a Professor of Medicine (Cardiology) at the Washington University School of Medicine, and a health services researcher.

HSIL identifies and implements innovations in data, analytics, technology, and care delivery to improve the health of patients and their communities. Cross-disciplinary in nature, HSIL facilitates health delivery innovations by bringing together clinicians, patients, informaticians, researchers, public health experts, and private industry. As promising innovations are developed, HSIL helps implement, evaluate, and spread them across BJC HealthCare and Washington University care delivery sites, the broader St. Louis community, and beyond. HSIL also serves as a conduit to the national and international healthcare innovation community, facilitating a bidirectional conversation that will accelerate collaborative innovation.

HSIL is specifically focused on developing innovations in four areas: 1) utilizing personalized health data - from genomics to social determinants - to optimally inform care, 2) moving care delivery closer to where patients live, work, and play, 3) harnessing community data for community health, and 4) engaging patients in shared decision-making and longitudinal health behaviors.

About BJC HealthCare BJC HealthCare is one of the largest nonprofit health care organizations in the United States, delivering services to residents primarily in the greater St. Louis, southern Illinois and mid-Missouri regions. Serving the health care needs of urban, suburban and rural communities, BJC includes 15 hospitals and multiple health service organizations. Services include inpatient and outpatient care, primary care, community health and wellness, workplace health, home health, community mental health, rehabilitation, long-term care and hospice. BJC's nationally recognized academic hospitals, Barnes-Jewish and St. Louis Children's hospitals, are affiliated with Washington University School of Medicine.

About Washington University School of Medicine Consistently ranked a top medical school for research, Washington University School of Medicine is also a catalyst in the St. Louis biotech and startup scene. Our community includes recognized innovators in science, medical education, health care policy and global health. We treat our patients and train new leaders in medicine at Barnes-Jewishand St. Louis Children'shospitals, both ranked among the nation's best hospitals, recognized for excellence in care, and affiliated with BJC HealthCare, one of the largest nonprofit health care organizations in the United States.