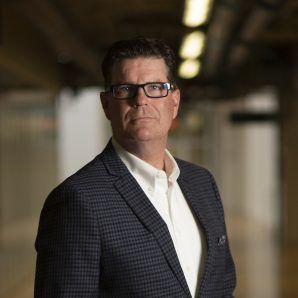 Tom Luby
---
Director TMC Innovation Institute
Tom Luby was born on Long Island, New York and grew up in a small town called Yaphank. Before beginning his professional career working in the health care startup industry, Tom received a Bachelor of Science in Biology from State University of New York and a Ph.D. in Immunology from the Sackler School of Biomedical Sciences at Tufts University. For his post-doctoral research, Tom shifted to the study of cancer cell genetics at Harvard School of Public Health.
Prior to making his way down to Houston, Texas Medical Center, and TMC Innovation, Tom served as New Ventures Lead at Johnson & Johnson Innovation, Boston, where he was instrumental in closing many deals with pharmaceutical and consumer companies and supporting the JLABS sites in Toronto and Boston. In addition, Tom spent 14 years in various R&D and business development positions, including Senior Director of Research Ventures at Shire. Nine of those years were spent working in R&D and operational roles across three startup biotech companies in the Boston area.
In his previous role as Head of JLABS @ TMC, a part of theJohnson & Johnson Innovation family, Tom was the site head and played a critical role in creating a place where startups could translate science and technology into valuable solutions for patients and consumers across the pharmaceutical, medical device, and consumer health technology sectors.
Now, Tom is eager to expand his role at TMC Innovation and help scale the collective innovation ecosystem within the walls of the former Nabisco cookie factory. "I have always enjoyed working closely with health care startups," Tom commented. He added, "Every startup is different and requires a singular focus; creating a startup is immensely difficult, and helping companies beat the odds and become successful always gives all of us a sense of pride. Their solutions are our gateway to higher-quality and healthier lives."
In his spare time, Tom spearheads another complex operation – his family. Tom and his wife Jen have four kids (two at home, two in college), two cats, and one dog. Collectively, the they enjoy dinners out – or at home – with each other. They also have a summer home on Cape Cod that presents a rare annual opportunity for extended relaxation!
Tom also enjoys playing golf, reading copious amounts of newspapers each day, and skipping commercials during movies and live sports by utilizing one of his favorite new technologies – on-demand viewing.
In conclusion, Tom emphasized, "I've been fortunate in my career to work with some outstanding people who have served as mentors – including Robert Urban and Mary Lynne Hedley in Boston, among many others, and Billy Cohn here in Houston." He added, "Along the way, I've tried my best to work hard, stay humble, and show respect to others. I plan to never lose sight of those tenets and will carry them with me into my new role at TMC Innovation."